Family Owned 12 Hole Golf Course
Here at Deer Run want to make us your first choice when it comes to fun golf and amazing food.
We've got a very dynamic 12-hole course nestled in mature trees surrounded by the Mariposa River.
We have something for all ages! We're family, junior and senior-friendly and it's a great course to walk.
We offer memberships and pay as you play. We welcome company and family golf tournaments with a delicious breakfast, lunch or dinner menu.
Be sure to check us out this year as we strive to make everyone who visits here leave happy.
Jack Nicklaus Quote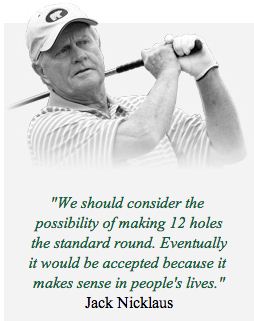 This quote by Jack Nicklaus is slowly coming true throughout North America with Deer Run's 12 hole layout being one of the pioneers. For those of you who feel nine holes just quite isn't enough and 18 holes is too expensive and time consuming, welcome to the publicly acclaimed Deer Run Golf Course. Whether you are a novice player or an experienced golfer, the mature par 45 design allows for a fun day on the course.
At Deer Run, you get more golf for less money. Enjoy!